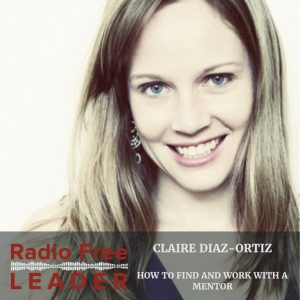 Claire Díaz-Ortiz is an author, speaker, and technology innovator who has been named one of the 100 Most Creative People in Business by Fast Company. Claire was an early employee at Twitter, where she was hired to lead corporate social innovation.
She is a frequent international speaker on business, innovation and social media, and has been invited to deliver trainings and keynotes at such varied organizations and events as The United Nations, Verizon, Toyota, South by Southwest, TEDx, The Mashable Social Good Summit, and many others. 
Claire holds an MBA from Oxford University, where she was a Skoll Foundation Scholar for Social Entrepreneurship, and has a BA and an MA in Anthropology from Stanford University.
[Listen in iTunes] [Listen on Stitcher]
In This episode, You'll Learn:
Why having a mentoring relationship can change your career
How the best mentoring relationships get started
The difference between a mentor and a coach
Resources Mentioned In This Episode:
Enjoy This Episode?
If you enjoyed the show, please rate it on iTunes or Stitcher and write a brief review. That would really help get the word out and raise the visibility of the show.