---
Register Below and Get Exclusive Resources
It doesn't matter whether you've read The Myths of Creativity and you're craving for more, or you're looking to get a taste of what the book has to offer. Check out the amazing resources we've compiled that supplement The Myths of Creativity. All of these are free—along with a free subscription to David's low-volume newsletter—when you register.

Already registered? No problem, just login in with your email address.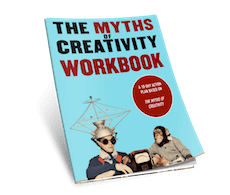 The Myths of Creativity Workbook
Designed to compliment The Myths of Creativity, this workbook will help you expand your creative capacity as you confront the common myths of creativity, act on empirically-support creativity techniques, reflect on your experiences personally and with others.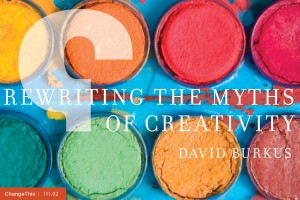 Rewriting the Myths of Creativity
This ebook was originally published on ChangeThis.com. It examines each of the myths of creativity in turn and outlines why we develop the myths that we do, as well as how to break free of them.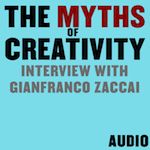 Interview with Gianfranco Zaccai
In this 45 minute interview, David and Gianfranco Zaccai discuss how Gianfranco founded Continuum, a leading design and innovation consultancy and one featured in the book both for its outstanding design and the outstanding approach it takes to managing creatives and creative work.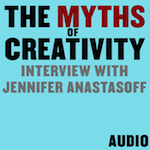 Interview with Jennifer Anastasoff
In this 30 minute interview, David and Jennifer Annastasoff discuss her work launching Fuse Corps, a nonprofit featured in the book for its work creating social innovation through cross-sector partnerships and the role of leveraging outsiders in producing innovation.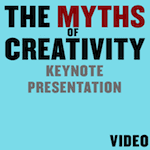 The Myths of Creativity: Keynote at Rotman School of Management
David outlines the five of the ten myths in The Myths of Creativity, and offers exercises for enhancing your creative capacity, to students and alumni of the Rotman School of Management.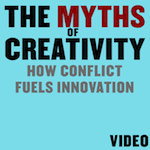 How Conflict Fuels Innovation: Keynote at Microsoft
David examines the conflict myth, from The Myths of Creativity, and offers strategies for using structured, productive conflict to enhance the creative collaboration of teams and the innovation of entire organizations.