Airport bookstores are crowded with books on leadership, and each one seems to promote a "leadership lack." They'll each begin with phrases like, "The most pressing issue in organizations is that leaders lack integrity…or empathy…or strategy…or even humor." These books continue by laying out the authors' simple framework for developing the perfect leader. On and on the dialogue goes to the point where readers become confused because the 21 Unassailable Edicts of Leadership are different than the 7 Routines of Really Efficient Leaders. It would be a poor move to add to this confusion. With this in mind, I will admit that I do not believe my "leadership lack" to be the most pressing issue in organizations, just the easiest to fix.
Leaders lack an understanding of leadership theory.
These airport leader books provide decent advice that is easily digestible. And because it is easily digestible, leaders continue to gorge themselves on it until there is very little room left for real, solid theory. Most see theory as complex and hard to digest. When leaders think about leadership or organizational theory, they think back to the 400+ page textbook they had to buy in business school. "Seems like quite an undertaking," leaders think, and cheerfully hand their money to the cashier and board the plane with the latest, pocket-sized "leadership" book.
Leaders lack an understanding of leadership theory because it isn't presented in pocket-sized form.
Attaining a true understanding of leadership theory isn't difficult, if it's presented right. In the coming weeks, I'll survey the major leadership theories. My intent is to present them in the same easily digestible, pocket-sized form as the airport bestsellers. Keep following, and I hope you enjoy a pocket guide to leadership.
---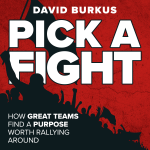 If you want to learn on leadership and especially the importance of purpose, check out my new audiobook Pick A Fight: How Great Teams Find A Purpose Worth Rallying Around at the links below.
---
More Articles in This Series: