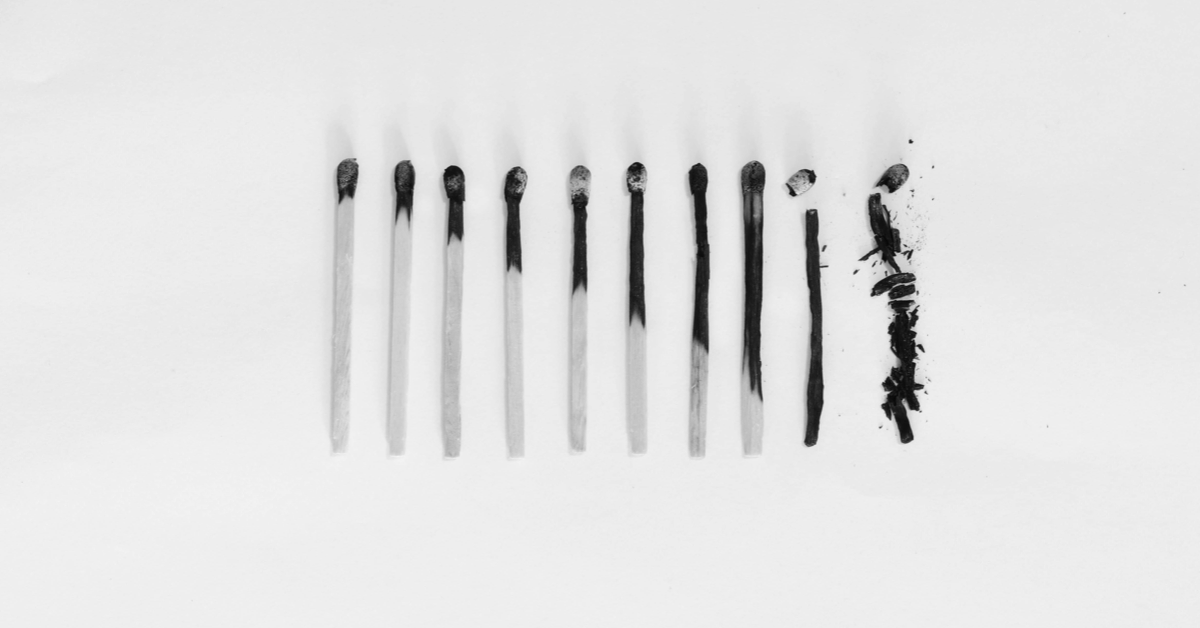 There's this simple misconception when it comes to burnout. We tend to think that burnout comes from just working too hard—putting in too many hours per week, exerting too much energy, and tipping your work-life scale out of balance. As a result, leaders and companies have sought to combat burnout by offering "rest" as a generic cure-all for their drained and disengaged people.
They've added greater flexibility programs (even before the pandemic), brought self-care opportunities into the office, and some have even become more serious about vacation time. And these programs aren't without benefit, but it became obvious fairly quickly that the returns on the rest investments were limited (again, even before the pandemic added new stress).
The reason is that burnout comes from many sources—and anti-burnout efforts need to address all of these sources to truly be effective. So in this article, we'll review the six true causes of burnout at work and offer some practical tips for leaders to mitigate the damage from these causes.
Excessive Workload
The first cause of burnout at work is excessive workload—and at first glance excessive workload looks like too much work. But excessive workload refers to juggling multiple projects, not having clarity on which one to focus on, and not knowing what next steps are for some. It's not about hours worked, but rather the feeling that no matter how many hours are worked, work isn't getting completed.
Excessive workload often sneaks up on the best performing people, because as they do good work, more work gets assigned to them. To prevent this, leaders need to keep track of how many projects they're asking their people to take on. And if adding more to the workload, leaders can make priorities clear—even going so far as to state which projects are no longer a priority can go a long way to reducing excessive workload.
Poor Relationships
The second cause of burnout at work is poor relationships. Even if the workload of employees isn't overwhelming and the project requirements aren't confusing, doing the work with toxic colleagues can quickly lead to burnout. Poor relationships not only trigger feelings of dread as people begin the workday, but during the workday toxic coworkers can trigger many of the other causes of burnout on this list by being too demanding, too critical, or too lazy and adding to the workload of their colleagues as a result.
That's why smart leaders focus on the relationships and cohesion of a team even more than they focus on whether the team is stacked with talented members. They know that individual performance is a function of team dynamics and work to build bonds on those teams. Leaders can help repair some of the relationship damage by seeking to create shared understanding between the team around differences in personality, preferences, and other contextual factors of the team. In addition, creating shared identity among members reinforces the idea that they're truly one team and need to put personal differences aside.
Lack of Control
The third cause of burnout at work is lack of control. Lack of control refers to how much (or rather how little) autonomy employees have over their work. When individuals get to have a say in what projects they take on, or at least how, when, and where they tackle those projects, they're more motivated and produce better quality work. But when a micromanager is hovering over their shoulder (or virtually hovering via constant check-ins or monitoring software) then those same people become demotivated and burnt out.
Leaders can't always decide what projects their teams work on, but there's always creative ways to increase autonomy on the team. If the project itself is a must-do, then leaders can discuss with the team who does what to get it done. If the deadlines are nonnegotiable, teams can still decide what the checkpoints or smaller deadlines look like. It may not seem like much, but a little autonomy goes a long way toward soothing burnout.
Lack of Recognition
The fourth cause of burnout at work is a lack of recognition. When people feel like they're good work isn't noticed, it becomes harder and harder for them to motivate themselves to keep working. And when they're juggling multiple projects through excessive workload or juggling multiple toxic coworkers because of poor relationships, a lack of recognition compounds the problem. It's difficult to take the time each day or each week to recognize each person's contribution, especially when the demands of the work keep rising.
But it's essential that leaders find time to praise the people on their team and express gratitude for their contribution. Moreover, it's vital that leaders connect that recognition to the work with as little delay as possible. Just keeping track of wins and sharing them later in the annual performance review may get those wins documented, but it won't reduce burnout in the people performing the work unless those wins are praised in the moment as well.
Lack of Fairness
The fifth cause of burnout at work is a lack of fairness. Doing great work and having it noticed is important, but feeling like that work is not getting as much notice as mediocre work done by another person or team can quickly diminish any positive effect from recognition. Likewise, feeling like another person or team is cutting corners or breaking rules and not being sufficiently reprimanded can spike feelings of unfairness that lead to burnout.
Depending on their power or place in the organizational chart, leaders may not be able to do much about an overall lack of fairness in the company. However, that doesn't mean they're powerless. In situations of unfair recognition, leaders can fight for the team to get greater notice and make sure people notice the fight. But in situations of unethical behavior, sometimes the best thing is to lead their team to a more just organization.
Purpose Mismatch
The final cause of burnout at work is a mismatch between the company's purpose and the personal purpose or values of the individual. We want to do work that matters, and we want to work for leaders who tell us that we matter. But often in the quest to define an organizational mission statement, grandiose visions about stakeholders and society can actually blur an individuals' ability to see how their work contributors to something so big. Or, if they see it, they may not feel as inspired about it as the senior leaders who wrote it during a consultant-led offsite and the lavish retreat center.
Smart leaders know their people's values and what aspect of the work resonates most with them, and they know how to reinforce how the day-to-day work meets that personal desire for purpose. Most often, this is best done by connecting the team's tasks to the people who are directly served by the team. We often think of purpose as "why we do what we do" but for many people, purpose is better stated as "who we help through the work that we do."
Looking at the full list, it becomes apparent why merely reducing hours worked or adding a few self-care programs falls short of banishing burnout. Leaders need to take care of more than just the physical when it comes to keeping people productive and healthy. They need to talk about purpose, and make sure that purpose is being served in fair way. They need to make sure people have a clear picture of expectations and are recognized when they meet those expectations. By addressing all of these causes, leaders can turn their culture from one that drains people to one that leaves them feeling more energized than when they started. And that will make a huge difference in whether or not people feel burnt out or whether they feel like they're doing their best work ever.
---
Thanks for reading. You can get more actionable ideas in my popular email newsletter. Each week, I share educational (and entertaining) videos, articles, and podcasts that will help you and your team do your best work ever. Over 40,000 leaders just like you have subscribed. Enter your email now and join us.
---
Watch
Listen